Why Should You Trust Joomla For Development Services?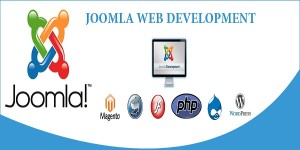 Joomla is an award-winning content management system (CMS) used extensively for its range of features. It's a trusted software package that has redefined the space of building, publishing, organizing and managing content for websites, blogs or mobile apps. Over the years, it has emerged as one of the most trusted and reliable platforms to build web apps. More so, it brings to the domain a whole bucket of features and adding a great value to the task of development.
Here are reasons for trusting Joomla for web development projects –
✓ It's a multilingual CMS platform offering support to 66 languages and thereby giving businesses a wider reach and presence among users worldwide
✓ Because it's a very popular and open source CMS, it's well supported by an ever-growing community of users, coders and developers on the internet.
✓ Joomla has ensured one click update where one can be notified about any update and this is how with Joomla, keeping the site up-to-date is tad easy
✓ Thanks to the presence of an integrated help system, this platform can be operated by every level of users to get the most out of it
✓ It's easy to upload, manage and organize media folders and file and for all this, there is the media manager tool
✓ It's now easy to access all media files and images for usages and enhancement of any variety.
✓ There is the banner manner that helps in creation of campaigns and addition of banners to get impressions and clicks and look to monetize the blog
✓ The CMS brings the feature of adding several contacts and categories and departments to get rid of the limitation of having to live with just one contact form on the site
✓ Searching will be quick and simple, and users will find any piece of information on the site with effortless ease due to the presence of built on search and smart search.
✓ Since Joomla is a popular content management system, it brings ease of organizing, managing and editing content of any nature
✓ Content can be edited with the knowledge of code and above all, editing does not require one to log into the back end, as frontend will be suffice for the task.
In overall, Joomla is a kind of platform your business should trust for a reliable, cost effective and new edge web development. After all, a growing number of businesses now trust Joomla development services India.