How Magento Can Make Your E-commerce Dreams A Reality?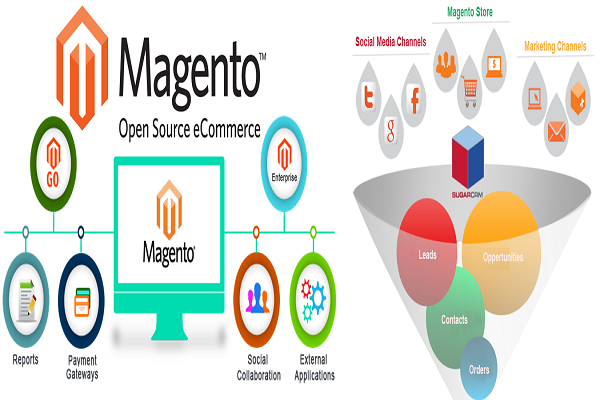 So, you want to open a web store and sell your products to the users over the internet? You want to take the business online and give it a wider and bigger marketplace to cater. You have understood the vast limitations that the offline world has for your business.
So, what would you do to open an e-commerce store? Well, first of all, you need to hire an expert and get the site developed. But make sure to choose a right platform for the job. There are many platforms available but you need to choose with care for your online store.
Why care? Because, not all platforms are meant for e-commerce. Not all of them will have features and functionalities suiting you e-commerce goals. That's why, you should trust only Magento.

Let's look how Magento can help you realize your e-commerce goals with ease –
✓ It's a platform trusted by some of top brands, including Nike and Samsung, for their online stores
✓ Over 25% of all online stores or e-commerce sites in the world trust this platform
✓ It is open source and available in free, paid and enterprise versions
✓ You can download and install for free and then, can tweak its source code and install extensions to meet your specific needs with ease.
✓ It has the support of a big community of developers who help it update and upgrade regularly
✓ The community keeps it risk-free by spotting flaws and fixing them with ease
✓ Magento is a platform tailor made for e-commerce packing in all standard features and functionalities needed for an e-commerce site
✓ It gives you the freedom of choosing hosting service and also helps add as many features without spending anything.
✓ Businesses can add, upload and display any number of products, product lines or SKUs with ease
✓ The platform easily gets integrated with third party apps and lets businesses bring new features and grow and expand.
✓ It's modular and customizable and apart from that, brings speed and ease of loading and caching pages
✓ Since it's built for SEO, businesses needn't worry about optimizing ever page and in the process, spending good money
✓ You can make a mobile-friendly store with ease and you can also run multiple websites using just a common backend system.
✓ You can leverage the platform to take your business global without spending anything.
In overall, trust Magento development India and give your business a new direction of growth and expansion.