How Mobile App Can Build Your Business Stronger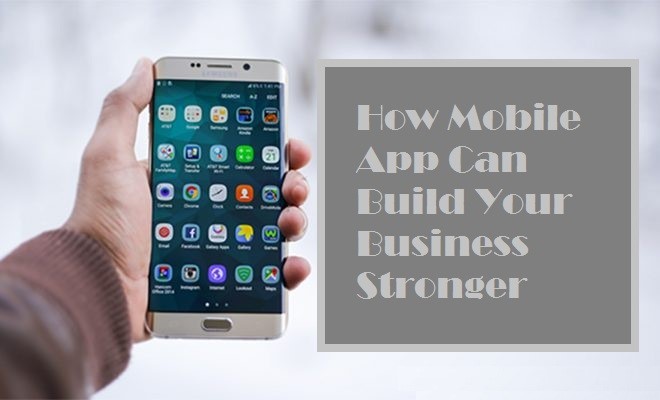 Whether it's a mega business firm or startup entire the smart businesses who want to get a step ahead of all of its competitors are bound with their own mobile applications. There are numerous reasons you should invest in developing a mobile app. We all are living in an era of digitization where apps can help businesses get an edge over the competitors. Firms who don't have applications are missing out a wider chance to attract the potential clients towards its business – doesn't matter where they live or how much far they are. Only having an active website is not everything that makes you empower over your competitors. It is a medium to assuring that you are grasping the effective strategies in a platform for online marketing.
By developing a mobile application for the business will give you edge and power over your competitors. The world has been swiped from desktop devices to smartphone devices which offer a tremendous amount of benefits to entire business holders. In case, if you are willing to develop a smartphone presence of your business, you must have to know which benefits you can get through it. Various times with mobile apps and webs look similar at a first glance that makes it congested to select a one which will be more suited to your business requirements. There are the various factors like
An availability of budget
The features you want
Targeted audience and more to decide if a smartphone application is good for your business or not.
A Selling Booster
One of the essential targets of every business is – a constant, rapid growth and massive return on investment in a low time period. A triumphant experience of some professional marketers says, mobile applications work like a jet engine in your business revenue graph. It helps to get maximum amount ROI in a short time period. Below are the few examples of it:
One of the most popular brands ZARA gained more than 58% increase in sales through their application.
The Domino's Pizza makers online sales have been growing nearly 27% in the United Kingdom (UK) after launching their company app.
Deliver more value to the users
The business is entirely about a requiting. You launch the goods and services – then market opens their vaults to satisfy their demands, right? And it'll be definitely the most effective way to engage more consumers. If any of business firm wants to expand an interaction of customers with the promoting sales of businesses, they must have to offer value to the users so they will never go anywhere else even if a competitor will offer the same goods and services.
There are various business firms who implement mobile app strategy to get benefits by providing rewards to the loyal subscribers or users of an application. It will significantly make the customer to buy company's goods and services. If a company has already one of such program, then they can simply amalgamate it into their smartphone applications.
According to the recent research, more than 60% of traffic comes through smartphones.
Develop Customer Engagement
All the users require a path to reach the business that offers exact goods and services a customer is looking for. If any business holder is unreachable with this mindset, then a business is surfing with the risk of losing customers. Thus, smartphone application comes in useful at permitting this extends. By giving an option on the app where users can ask their orders, queries, make comments and complaints.
If a business firm or customer caring group can answer all the communication personally – it will make their customer engagement even more attractive and delightful.
Direct Marketing
The smartphone application delivers plenty and useful information to your company about all the users – demographics and geographical locations are the most common example of it. More necessary, you can provide the amount of information to customers about all goods and services you offer through the new features, offers, latest promotions, news feeds, product specifications and valuable rates. You can get knowledge of the certain amount of customers, and then deliver the solutions as per their requirements.
Get Edge on the Competitors
It would not be wrong by saying that mobile application makes business holders to rule on a competitive edge of the market. Grasp the benefits of such an effective communications and marketing tool while it is still peerless. On a tie when your competitors will realize its importance – you can already win an entire share of the market. Doesn't matter what you offer – you can simply play a commanding role among your rivals.
Only a matter of tapping a button, all your users can see the goods and services your business offers. It's an undeniable fact that mobile applications are rapid, swift, and simple to use – such kind of ice flow can drive the customer engagement and loyalty to a whole new better level.
Author Bio
Marilyn Delvin is a skillful writer who has been delivering paramount quality content since half of the decade. Now she is working as a senior writer in applications development Company in US.