MilesWeb Affiliate Program – Reasons to Sign up for Their Affiliate Program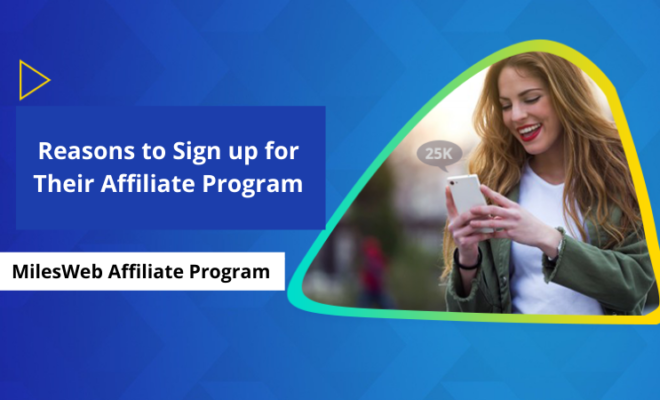 Are you looking for a medium to earn money online, but have no idea where to start with? Here's a perfect guide for you to start earning. Nevertheless, you're already earning online here's a chance you can grow into the field.
Talking about earning online without even investing a single penny sounds exciting, isn't it? Even I was fascinated by the thought of generating revenue without putting money into any kind of business.
Revealing the secret, I was talking about an hosting affiliate program through which you can earn money without investment. To get into the details we must know what does affiliate marketing really means and how it works.
The gist of Affiliate Marketing
Affiliate marketing is a term widely used in Digital Marketing. In a world full of digitization one must be aware of the fact that businesses are getting digitized, with the help of the Internet(WWW). While businesses are getting online, the companies need to switch from legacy marketing to digital marketing.
What happens in Digital Marketing?
Digital marketing is a process of delivering advertisements through various digital channels such as search engines, websites, social media, email, and mobile applications at a high level. Digital marketing, using these online media platforms, is the process by which businesses support products, services, and brand promotions, selling, buying. Google marketing survey says that 48% of consumers enquire about products, services, labels, etc. via search engine, while 33% go through the websites of a brand and 26% search with the help of a mobile application.
Knowing a bit about digital marketing we can easily understand what affiliate marketing is.
Affiliate marketing is a type of marketing in which you become the promoter of the product, service, labels, etc. of an individual, a company, or a company. As you're promoting the goods, services, or labels you are getting the share of sales and that's how you earn.  You being the promoter, you are called an affiliate. For example fitness trainers promoting the products like protein powder or shake earn from the promotional activities. There are different ways listed below in affiliate marketing through which you can earn money.
Pay-Per-Sale: In this type of marketing, the merchant pays the affiliate a fixed amount or percentage for each sale done from the unique affiliate link provided to the affiliate.
Pay-Per-Lead: In this type, the affiliate is paid for each lead generation. Every time a customer visits the website of the merchant through the unique affiliate link and fills up the personal details, the affiliate is paid some amount.
Pay-Per-Click: As soon as the customer switches from the affiliate's website to the merchant's website via the unique affiliate link, the affiliate is paid. In this case, the affiliate has to keep the customers engaged and also, has to look forward to increasing the traffic of their website.
You must be wondering about the best ways to start with the affiliate program.
There are various web hosting companies in the market that provide various affiliate programs, one of them is MilesWeb. Have you been thinking already about why did I mention the name of MilesWeb?
Here are the reasons why you should be an affiliate of MilesWeb.
Easy to join: With MilesWeb, the cheapest web hosting in India, you can join the affiliate program just by clicking on the Sign Up for Free button. The best thing is you get ₹1000 as sign up bonus. You need not be an expert in the field of digital marketing or affiliate marketing to start with the signing up process. Moreover, as it is a free program you don't need to spend a penny for the same.
Easy to use:  Once you have joined the affiliate program it is as easy to use as having delicious food readily served. You being an affiliate now will receive a unique affiliate link through which you can start promoting the products or services of MilesWeb.
Things to keep in mind before sharing the affiliate link on your website:
See to it that the content on your website is strong and appealing.
You have enough traffic coming your way (you can pay to increase the traffic).
See to it that you are well versed with SEO.
Know keywords.
Try to convert clicks to sales by attracting a needful audience.
Once you are firm with the above-mentioned points, it is going to be easy for you to do the promotions and make sales.
The company has a wide range of services which helps the buyer choose the service of his choice and can also switch to other services. Ultimately, the commission is recurring in this case. You can actually promote tons of different affiliate product deals on your site or social media sites, once you are a part of the affiliate program. A broad variety of promotional strategies, from banner, flash, text, content, pop-ups, etc. can be used by you.
You can monitor your activity and track the performance metric.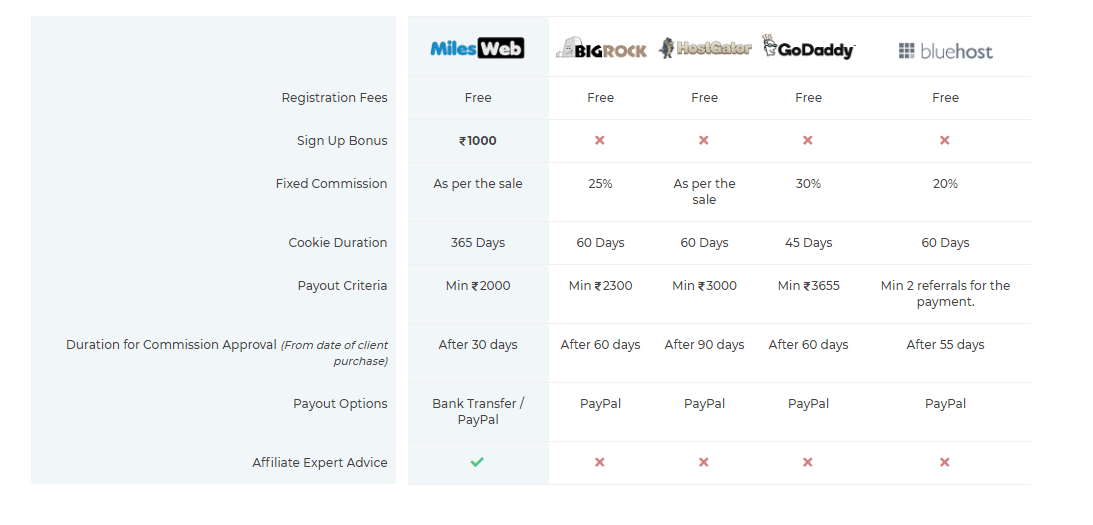 Countries where they offer affiliate programs: While you are an affiliate of MilesWeb, you have no limitation regarding the geographical areas of buyers. As they provide service worldwide, you can have consumers from anywhere around the globe.
Great Commissioning policy: With MilesWeb, you are ought-to get paid for every sale you do. The commission amount starts from ₹200 to ₹2000 per sale depending upon the service one is buying from your unique promotional link. MilesWeb has a 30-day commission trend which also provides payment information for the products you promote. The company has huge payouts as they are one of the leading web hosting providers in the market.  The referral commission paid by MilesWeb for shared hosting is ₹500, reseller hosting is ₹1000, and escalates to ₹2500 for VPS hosting.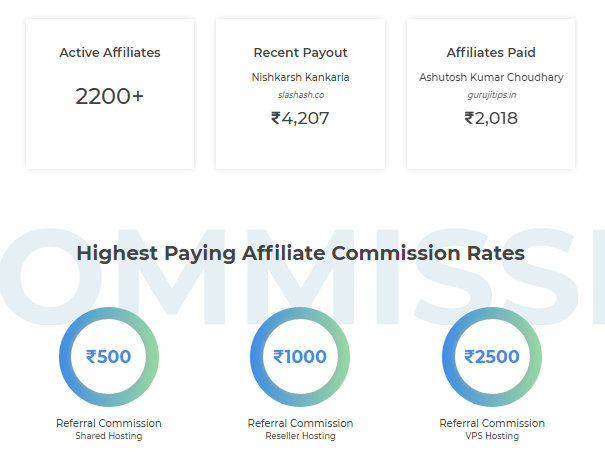 The biggest advantage with the company is, they provide services to small size businesses as well as large size business. So there are no limitations regarding the kind of audience you'll be targeting.
Isn't that amazing to read that MilesWeb is currently having more than 2200 active affiliates around the world? You can certainly be one just by joining for free.