Static Html Or WordPress: What Will You Prefer For Your Website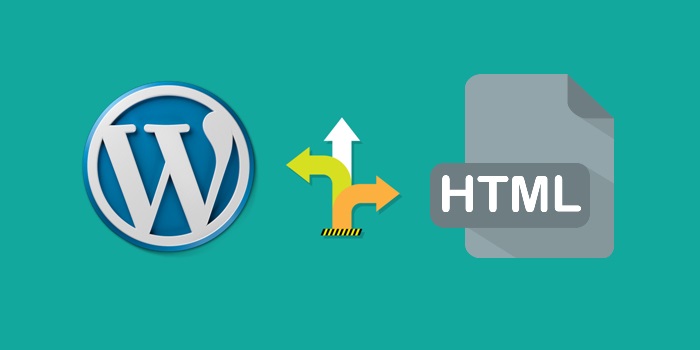 This comparison is more or less redundant to a seasoned developer, but for a new website for an equally web-novice business owner, the difference between a static HTML vs. WordPress website can be huge. This post is for the latter kind.
If you've done your homework, you're already what WordPress is (a content management system). HTML (Hyper-text programming language) is the basic language every webpage is built on. Including WordPress'…
The difference is plain in this cookie metaphor: HTML is like plain flour– it needs further preparation to be ready to go into oven. WordPress, on the other hand is like the refrigerated version of the cookie dough – roll, slice, and tada! You have cookies. When every minute of your time is precious as dollars, the saved effort can mean a lot.
So while I may be a little biased in favor of WordPress (I work with it for a living, come on!), I can still compare the two with relative objectivity. Given below are a few points:
✓ Ease of Use and Development
I alluded to this in the rather delicious intro: WordPress saves a lot of effort during development. A lot of things your developers would otherwise slave over on HTML are already handled with the CMS.
The same goes for day to day website management, which is where you (and your team) come in. The WordPress admin is legendary for its user-friendliness. Essentially, if you can handle that smartphone in your pocket, you are more than capable of managing a WordPress website, even without a developer at hand. For an HTML website though, you'll need to learn basic syntax and tags to barely master the daily act of publishing a measly blog post on your website.
Thanks to a neat structure which is green to go anytime, WordPress websites are easy to develop compared to static HTML. Hence, many website owners are switching their website from static HTML to WordPress theme. The main reason behind this is the ease of using WordPress. Even a non-techy guy can handle their own business over WordPress website.
✓ Time
This is an obvious tangent.
Because development is easier on WordPress, it can be done in less time. In fact, thanks to countless plugins, themes, and resources available, you can do it on your own without developer input.
There are certain things you can count on getting from WordPress, straight out of the box, which would take hours and days to create and maintain on an HTML website: SEO, new functionalities, a different website look, right down to slightest changes in your logo placement. On WordPress, all that is taken care of (without any additional plugins). With backend options for Permalinks, Titles and tags in TinyMCE, responsive images (from Version 4.4 onwards), WordPress Customizr, and more, you can run a website efficiently and make changes as you see fit in a matter of few clicks.
✓ Cost
There's no way to guess-timate the costs of development on WordPress or in HTML; that depends entirely on the web or WordPress development company you hire, as well as on the costs of premium themes/templates and WordPress plugins.
That said, HTML is relatively cheaper: you can find premium HTML templates on the web for $15 onwards, while a professionally created WordPress theme (from a trusted source) will cost you upwards of $40. Same goes with plugins. The same goes for hiring web developers for customization work.
There is also the matter of hosting and domain, which is nearly the same for WordPress as well as static HTML websites.
✓ Endnote
Never forget that WordPress works with HTML too! Every website does.
But as with the cookie example in the beginning, it's a matter of longevity and daily administration where WordPress truly wins any competition. Why else would high traffic websites like BBC America, Walt Disney, Bata store etc. choose WordPress as their platform?
Author Bio: Lucy Barret is an experienced Web Developer at WordPress Development Company HireWPGeeks Ltd. She is also a passionate blogger and cherishes every opportunity of contributing as a guest author at top blogs.