Leverage Salesforce Development and Give Your Business an Edge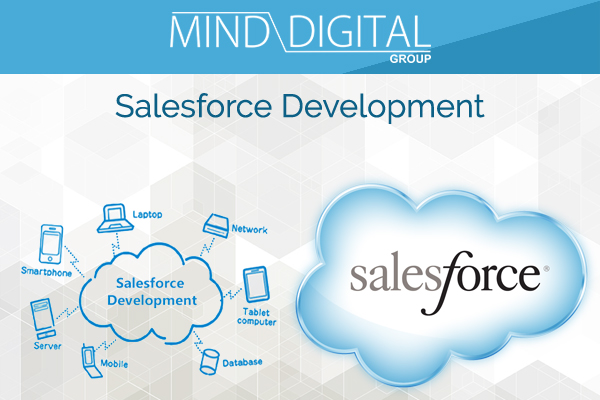 In today's time, it's important to use a CRM system to streamline processes and automate some of operations. Doing this helps the business cut down resource expenditures, save time and achieve greater ROI. Salesforce CRM even helps a great deal more as its impact reaches well down to the sales and marketing teams as well. It's an advanced, cloud- based and business-specific customer relationship management software that helps industry players across verticals.
 
Benefits are many in using Salesforce CRM, including
–
✓ It helps you run the business from anywhere and that too, even without needing any investment on the front of either software or hardware.
✓ This domain-leading CRM gives businesses an opportunity to leverage cloud, social and mobile to the core together with benefiting from data science technologies.
✓ Thrice-a-year upgrades and new features can enrich your business a great deal you will stay away from any risks on the front of data security.
✓ Salesforce CRM brings an opportunity to leverage the most trust cloud in the world and benefit the business with a layered data security approach.
✓ Businesses needn't bring changes to benefit from the CRM rather than can change Salesforce to meet their specific requirement together with imparting a dash of agility and productivity to the business.
✓ Businesses will have the freedom of customizing the core CRM platform and they will have a whole host of tools to develop apps of choice and take the business forward.
✓ Salesforce CRM platform brings businesses a chance to get pre-built apps in seconds and also get enriched with apps that have millions of installs and reviews already.
✓ Businesses will get tried-and-trusted 3rd party apps to extend Salesforce into any industry or department to cut down risks and tackle challenges and grow the base.
✓ Salesforce helps business save all customer data in one place and utilize it for decision-making purposes and also for serving customers by understanding them fully.
✓ The CRM helps sales team get leads faster and close more deals apart from supporting the marketing team to keep a track on campaigns and analyse lead generation on a constant basis.
✓ With all information and data store in a single place, it becomes easy for business to leverage analytics and get in-detail information regarding customer behaviour etc.
In a nutshell, we can see how Salesforce development can help your business have an edge and stay ahead of the curve. So, don't delay and hire a certified partner only to take your business forward.
Save
Save
Save