Elements of a Great Web Design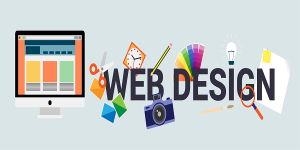 It's true that every business wishes to carve out their own identity on the internet and make the presence felt. This task is surely not easy as it needs a great website. In fact, the online performance of any business depends entirely on the kind of website it has.
More so, in order to have a great website, the design part will play as bigger a role as the development part. It'd be a mistake to give more preferences to development at the cost of designing as this could be a recipe of disaster for sure.
You should thus hire only a company that excels at both –designing and development – in equal manner. After all, a good-looking, neat & clean website is as important as a feature-rich and user-friendly one.
Let's look at some important elements of web design –
✓ Having a good home page design is a must as you can't take risk with the 'first impression'
✓ Users first land on the home page and they expect it to be simple and clean
✓ The home page should never give a cluttered feeling
✓ You just can't put everything, every information on the front page
✓ The home page should have only essential information, and its design should encourage further navigation
✓ Your home page should never have an image that is crossed its pixel capacity as it leaves a ban impression
✓ The navigation should be intuitive and rather than following the standard norm of having then options of top, try having them either on the left or below the page
✓ Navigation options should be clearly visible and it should tempt users into taking a further visit deep into the site
✓ The colour combination should be selected in a manner to make the website easy and pleasant on the eye
✓ The colour combination should be chosen to match the theme and spirit of the business and sticking a three-colour palette is advisable for your site
✓ Your website should have responsive design as users must get a uniform look and feel irrespective of the kind of device they use
✓ Whether users view your site on the mobile, tablet or laptop, they should get the same look-and-feel as doing this boosts the reach of your website and business as well
In a sense, you should trust only a top web design company India to get all the designing works bang on target to boost the presence of your business.