Why is WordPress the Best CMS for Your Business?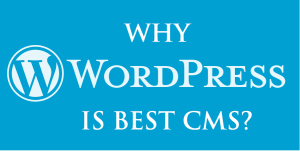 WordPress is undoubted the simplest and the most popular open source CMS. Used by millions of  websites, WordPress is free, easy-to-use, and easily upgradable. Moreover, it offers thousands of plugins and templates, ensuring flexibility and easy customization. The following are some of the reasons why WordPress is the best content management system for your business:
It's the most popular CMS in the world
As far as self-hosted sites are concerned, WordPress accounts for 18.9 percent of all websites. It is used by more than 76 million websites and holds the largest market share in the CMS market. Moreover, majority of users are familiar with it and, therefore, requires minimum training.
It is open source with room for expansion
You can self-host a WordPress site without bearing any cost on downloading, installing, and upgrading. The CMS offers more than 20,000 plugins, most of which are free, giving you unlimited customization options. You can install plugins for slide shows, contact form, SEO optimization, etc.
It is highly customizable
WordPress boasts of a flexible framework that allows designers and developers to create and modify layouts and applications. You can also integrate user-generated extensions as per your requirements. In addition to this, Regardless of who you are, WordPress makes it really easy to customize colors, design, and features of a WordPress theme.
It is designed for everyone
WordPress started as a CMS for people who does not possess any technical know-how. It offers highly user-friendly interface in addition to numerous written and recorded manuals that makes it extremely easy to learn and easy to use. Unlike other CMSes that requires you to have technical expertise to run, publishing blogs, managing users, comments, RSS feeds can be done easily.
It is cost effective and requires little maintenance
WordPress is free to begin with! In comparison to other open source CMS like Joomla and Drupal, WordPress lets you setup a website without incurring much cost for setting up, customization and maintenance. Moreover, it is very easy to find WordPress development services India if you wish to customize and develop your website further. Since it is an open source CMS, you are not tied down to a boring, stock proprietary CMS that costs relatively much more to tweak after initial development.
Some interesting WordPress Stats:
* 26% of all the websites in the world use WordPress
* More than 2.5 billion posts have been published with WordPress
* More than 50,000 new WordPress users are added daily
* More than 59 million new posts are added on WordPress blogs monthly