CMS Showdown: WordPress vs Joomla vs Drupal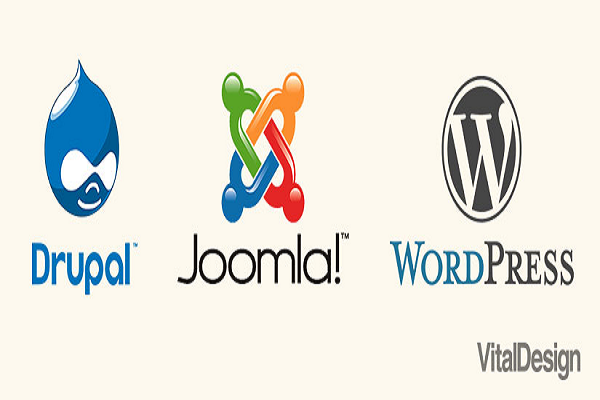 Content Management System (CMS) is a web development tool that includes a set of programs used to create and manage digital content. CMS comes handy when you want to build a fully functional website but you do not have the technical expertise to do so on your own. While some CMSes like Magento and Volusion require technical expertise, there are a couple of open source content management systems like WordPress, Drupal, and Joomla! that make building a website quick and easy. The question is which CMS to use? In this article, we will compare the three most popular CMSes available today and analyze their capabilities and limitations.

WordPress
WordPress which began as a blogging platform is now the world's favorite CMS. More than 30% of the websites today run on WordPress engine!
Advantages:
✓ Its open source structure is a huge advantage. Many programmers make their code public by sharing them openly, which benefits the users to save precious time and money as they can use the already existing code.
✓ WordPress is easy to learn and operate. You do not need any advanced programming skills to get this tool up and running.
✓ It offers easy and fast integration with a hosting server.
✓ It is offers a wide range of plugins that you can download to make it SEO friendly. Searching and installing these plugins is also a fairly simple process.
✓ It has a user-friendly admin interface allowing any non-professionals within technology to manage it without any issue.
✓ The best thing about WordPress is its low cost.
Disadvantages:
✓ Since it is an open source platform and all the code are available publicly, hackers can easily find security loopholes.
✓ WordPress is ideal for small content websites. In order to develop a sophisticated and extensively customized site, it will require you to make several systematic changes which can raise your cost considerably.
✓ Updating the system is critical in order to close any security holes that may exist. Since WordPress, contains numerous plugins, updating becomes a problem as the process can damage certain plugins not adapted to the new system.
✓ WordPress lacks personalization features and all WordPress sites end up looking almost the same.
Drupal
Drupal comes next to WordPress in terms of popularity. Another open source CMS, Drupal is extremely powerful. You can use this platform for anything ranging from a simple blog to a complex content portal for large corporations.
Advantages:
✓ Drupal offers easy customization with features including various plug-ins, themes and other customizable options. You can even edit the root files, thus making it the most flexible CMS.
✓ Drupal supports rapid prototyping as well as multi-site configuration. This means that you can build your site and your sandbox at the same time.
✓ Drupal has a large community base from where you can get technical support.
✓ The CMS scales effortlessly and can handle thousands of users simultaneously without breaking a sweat.
Disadvantages:
✓ Drupal has a steep learning curve and it requires technical expertise if you need more than a basic blog or small business page.
✓ Drupal offers limited themes as compared to WordPress. You might want to higher a designer if you are looking for a fresh design.
Joomla!
Joomla! is another powerful CMS that runs without any hiccup on most web servers. You do not need any technical expertise to work on Joomla! It offers many features that can compete with the other two CMSes discussed earlier.
Advantages:
✓ Joomla is quite user friendly and it requires less technical expertise than Drupal.
✓ It offers a wide collection of themes and extensions (plugins) making it very customizable.
✓It has a strong community of developers.
Disadvantages:
✓ Even though the learning curve is not steep, you might need to have technical expertise to get a Joomla site running.
✓ It is not SEO friendly. With Joomla you have to tweak the your site manually in order to achieve the same level of search engine friendliness WordPress offers with just an installation of a free plugin.
✓ Functions are pretty limited and customizing your site is somewhat difficult.