Organize and Manage Your Website Content With Joomla CMS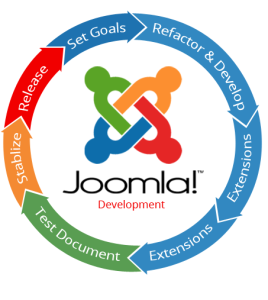 We live at a time where content is a major source of information, entertainment and enrichment. Be it websites, blogs or mobile apps, they all have to publish content to let users access them and gain some value out of them. These content can come in different varieties and they need to be built, organized and managed once they are published.
Doing all these tasks will require a feature-rich and advanced CMS, and this is Joomla stands out. It's considered a powerful platform to build web applications and it has a scalable MVC architecture. This CMS captures a whopping 9% of the market and is used by hundreds of thousands of businesses across industries and across the world.
Here are reasons why you should trust Joomla –
✓ It's an award-winning CMS that is redefining digital visions around the world.
✓ It's an open source and multilingual platform providing   66 languages.
✓ It helps websites to be made available in multiple languages making them more accessible.
✓ It's a well-supported platform with an ever-growing community of individuals and developers alike who help users facing trouble with any aspect of the platform.
✓ It comes packed with 'One Click Version Update' so that the software can be kept up to date even without facing any issues.
✓ With an in-app contextual help system, this platform can be of great help to user at any level.
✓ It has relevant features, including the Media Manager, to let webmasters upload, manage and organize media folders and file with effortless ease.
✓ Its banner manager tool brings the prospect of creating campaigns, custom codes and banners to enable rich gains with advertising efforts.
✓ It brings the freedom of adding several contacts on the website together with letting users as many categories as they could.
✓ Its built-in search and smart search features let users find any and every kind of information on the site without much of a trouble.
✓ It also has statistics so that visitors and their needs can be analysed with ease and the content can be streamlined for easy access.
✓ The inbuilt WYSIWYG not only brings ease of content creation but also allows editing without much of a problem.
✓ It enables editing from the front end itself abolishing all those logging to the admin section etc.
In a nutshell, potential is great for your website when you decide to go with Joomla development India. So, don't let a great opportunity slip by.
Save
Save