9 Reasons Why Your Business Should Switch to Joomla
Joomla is the second most popul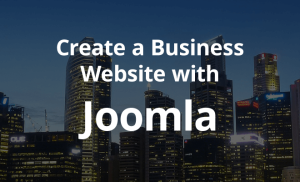 ar CMS (content management system) with more than 50 million downloads. Several big brands like McDonald's, General Electric and eBay uses Joomla. The following are some of the reasons why your business should also switch to Joomla.
1. Free and Open Source: Like WordPress, Joomla is also completely free. Therefore, you can set up a Joomla powered site without incurring much cost. Since it is an open source CMS, it allows you to make any modification to suit your business needs.
2. Highly Responsive: Joomla is equipped with a Bootstrap framework that ensures that your business website is responsive to use, regardless of device used. In addition to providing responsive design feature, Joomla also features several online applications to enhance customer experience.
3. Multilingual Support: One of the main reasons why companies should consider Joomla is the fact that it's multilingual. Because Joomla features more than 64 languages, it's a great resource for businesses who want to reach a global audience.
4. Create a "Login" Page: Joomla allows you to create login page for visitors. This feature allows your visitor to sign up for on your site in easy steps. This enables you to send them regular updates on the latest events and happenings related to your business.
5. Numerous Extensions: Like plugins in WordPress, Joomla offers more than 8,000 extensions to enhance your sites functionality. You simply browse the Extension Directory to find almost any particular extension that your business website requires.
6. SEO-friendly: If you are using Joomla 3.0 or higher version, you can access SEO Settings under Global Configuration. Besides basic SEO settings, you can even boost your SEO campaign by installing extensions such as SEO Glossary or SEO-Generator. The Joomla Community Magazine also offers valuable SEO tips that you can incorporate in your campaign.
7. ACL (Access Control List) Support: Joomla allows you to manage the users of your site, and different groups. This is advantageous, especially if you have to manage large content portals or intranets as you can create two separate support systems: one to control what visitors can see and another to control their actions.
8. Access a "User Manager": This useful features allow you to access detail of your registered users including their email addresses, thus making it an ideal email marketing tool.
9. Highly Secure: Security has always been a big concerned for online business owners. Joomla's security feature is robust and offers two-factor authentication. It also uses Bcrypt Algorithm to encrypt passwords.
Conclusion :
Joomla is no doubt a powerful CMS that offers tons of useful features. There are numerous Joomla Development India offering a wide range of services to provide you with the best CMS for your business.