Make Your Online Store Stand Apart From Competitors With Custom Product Design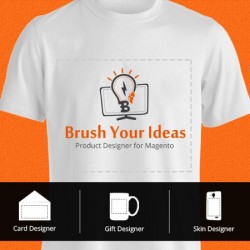 Every business wishes to stay ahead of competitors and carve a niche in the market. The task is easier said than done as it involves a blend of toil, persistence and perseverance. Above all, adapting to the changing market dynamics and being innovation helps a great deal in the endeavour of staying ahead of the curve.
For online stores or e-commerce websites, there has come a chance in the form of product designer tool to lead the market and expand the base easily. Once integrated, the tool lets businesses help their customers design, personalize and customize product of their choice.
Here are benefits for businesses in integrating product designer tool –
The tool is feature-rich, advanced, responsive and fast helping customers customize the look and feel of any product of their choice.
From t-shirt to shoe, cap, mug, hat, banner, greeting cards, laptop, phone and much more – the tool allows designing of all these products in a hassle-free manner.
It gives customers a chance to add art, text, images, messages, shape, colour, clipart and everything that helps them customize the look-and-feel of their product.
This user-friendly tool not only works fine on laptops and desktops but also on all hand-held devices.
The tool packs in a big library of colours, fonts, clip arts, designs templates etc. so that custom product can be created with effortless ease.
It as easy to use for admins as it for end users and above all, SSL protection makes it a hugely secured tool to rely upon and feel safe with sensitive data.
Apart from multi-browser support, it gives compatibility with devices as varied as iPads, Android, Windows, iPhones and Mac.
It is pixel-perfect responsive and it fits perfectly into the screen size of the device used to view it.
Thanks to less code, it delivers excellent performance together with offering efficiency of the highest standard.
Its custom-built features and functionalities make it a powerful tool something which could be a great addition for your business.
It leverages 3D technology, gives a 360-degree view of each angle of the product, provides preview and lets customers get a final outcome matching to their specs in a perfect manner possible.
Quite clearly, Custom Product Design is what your business should look to benefit from in order to seize the momentum in the market. So, go ahead and integrate a top-class tool to make the presence count in the market.