Whom Should You Hire: A Web Development Firm Or A Freelance Developer?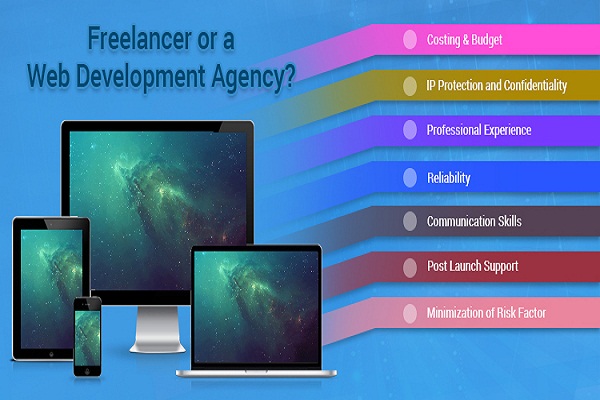 You have a marketable idea for a new mobile application. Unfortunately, you don't have any development skills. You are faced with two choices: hire a web development firm or a freelance developer?
Hiring the right entity for the job could be a challenging task! Well established companies prefer to associate themselves with reputed development firms, while smaller companies are okay with hiring a freelancer. On the other hand, some prefer to hire each contributor individually and work with them personally, while others prefer to team up with a web development company to serve as a project manager, coordinating with everyone involved in the project.

Irrespective of who you are, the decision mainly depend on the type of business and project you have in mind! Assuming that either of the two entities understand your goals and deliverables, the list below shows some of the major factors that play a role in determining what type of service to go for.
✓ Project Nature
Identify the nature of the project! Find out if it is purely technical or if it requires skills related to other fields such as marketing, design, communications. If you have the above skillset, you might only need a developer. Others will benefit from a developer who can do coding as well as oversee the planning and design process from a marketing and communications perspective.
✓ Cost Estimate
A web development company has an expert team that will offer the complete solution. As a result, their cost is significantly higher than that of a freelance team. Some companies may ask for an hourly fee, while others will quote a price based on the project as a whole. On the other hand, if you are hiring for a long term project, you might want to consider building a relationship with a local web developer with a good reputation. This could be a cost effective option that will also provide you the flexibility you need!
✓ Purpose
Besides a cost estimate, you might also want to consider the purpose of your app. If you are starting a company like an Uber or a Snapchat, assembling your own team from the beginning could be ideal in the long run. Meanwhile, you can retain the freelancers to perform repeat projects and as consultants as your company grows.
✓ Your Availability
If you alread have a business and you are building an app to promote it or to offer additional services, you might want to hire a development firm. This way, you can stay focused on your business. While hiring an agency is comparatively costlier, an agency can handle the whole project saving you precious time.
✓ Project Estimate
A web development company may be more interested in a fixed-price contract. Even though, freelancers might also be willing to negotiate, a company's collective experience will probably help in determining the complexities and costs of all stages of your project from the intial stage itself.
✓ Process
If you do not have any software building experience, you might want to consider hiring a project manager. Development firms have project managers who will liaise with you and the design and development team.